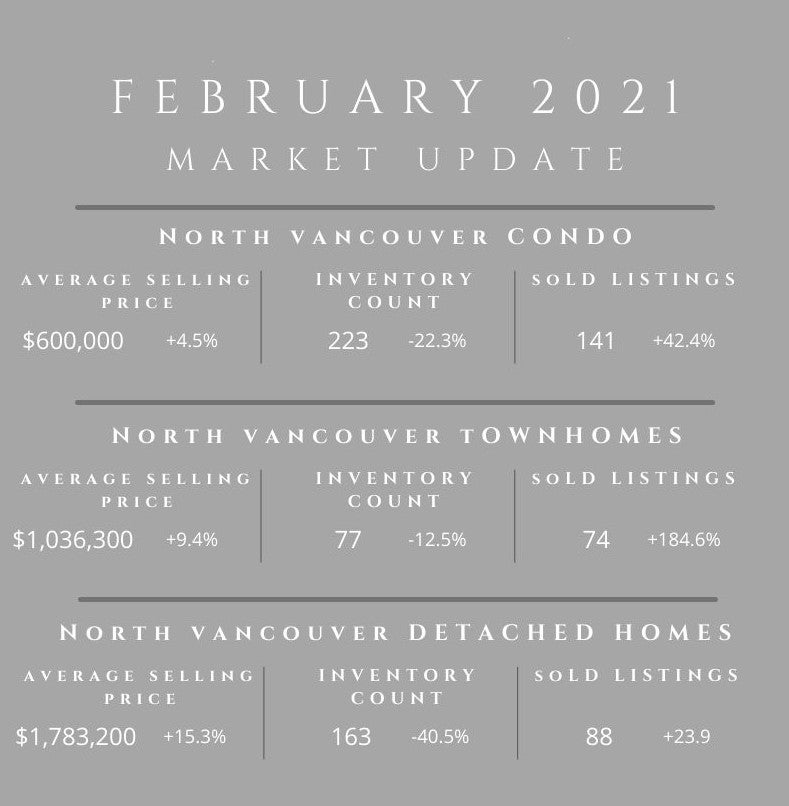 Competition among home buyers continues to put pressure on home prices in North Vancouver housing market.
The Real Estate Board of Greater Vancouver reported that the residential homes sales in North Vancouver totaled 315 in February 2021, a 53.7% increase vs 205 same time last year.
For all property types, the sales-to-active listings ratio for February 2021 in North Vancouver was 67%. Broken down into each property type, the ratio is 54.0% for detached homes, 63.2% for condos, and 96.1% for townhomes.
According to Colette Gerber, REBGV Chair, 
"Metro Vancouver's housing market is experiencing seller's market conditions. The supply of
listings for sale isn't keeping up with the demand we're seeing, Competition amongst home buyers is causing multiple offer situations and upward
pressure on prices."

"This is particularly true in the townhome market where demand is outstripping the available
supply. Conditions differ depending on location and property type so it's important to work with
your local REALTOR® to develop strategies to meet your needs."

In North Vancouver, there were 425 detached, attached and apartment properties newly listed for sale in February 2021. This represents a 16.4% increase compared to the 365 homes listed for sale in February 2020.
"Low interest rates remain a key driver in today's market. We're seeing steady numbers of first time home buyers and move-up buyers entering the market," Gerber said.