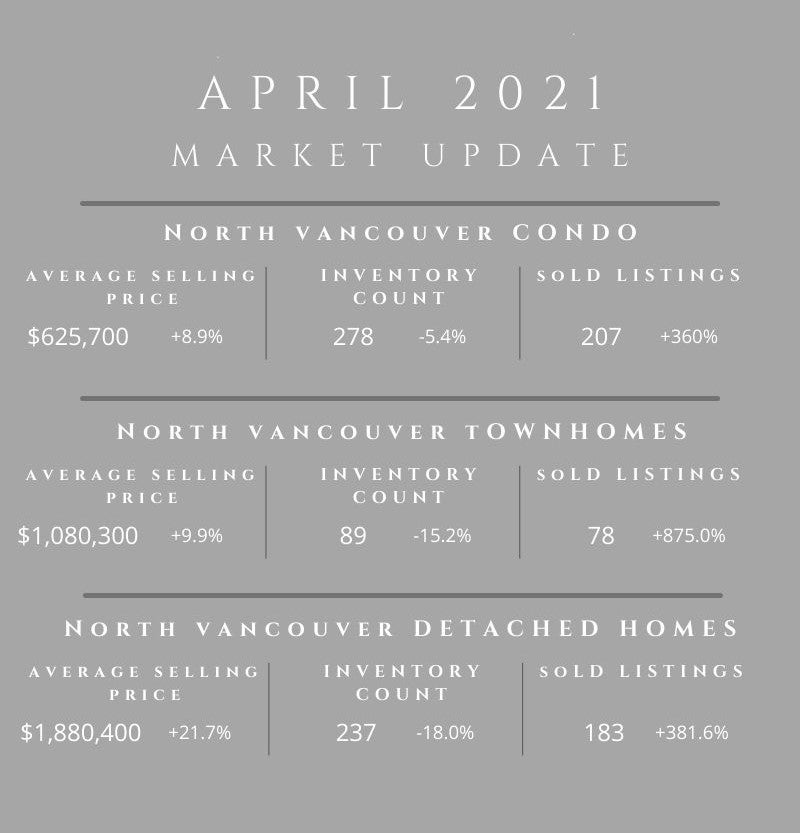 Competition among home buyers continues to put pressure on home prices in North Vancouver housing market.
The Real Estate Board of Greater Vancouver reported that the residential homes sales in North Vancouver totaled 476 in April 2021, a 401.1% increase vs 95 same time last year.
For all property types, the sales-to-active listings ratio for April 2021 in North Vancouver was 77%. Broken down into each property type, the ratio is 77.2% for detached homes, 74.5% for condos, and 87.6% for townhomes.
According to Keith Stewart, REBGV economist, 
"Our housing market has changed considerably from one year ago when COVID-19 concerns brought activity to a near standstill. This was followed by a well-documented spike in home buyer demand across the region. So far, this spring, we've seen a corresponding supply response from home sellers. While homes are now being listed at record levels, more supply is needed to meet today's demand and help market conditions achieve greater balance."
In North Vancouver, there were 669 detached, attached and apartment properties newly listed for sale in April 2021. This represents a 205.5% increase compared to the 219 homes listed for sale in April 2020.
"Record low interest rates, increased household savings, a strengthening economy and a continued focus on living space during the pandemic are all factors that are helping to bolster demand while steady price growth is encouraging more sellers to list their homes," Stewart said.