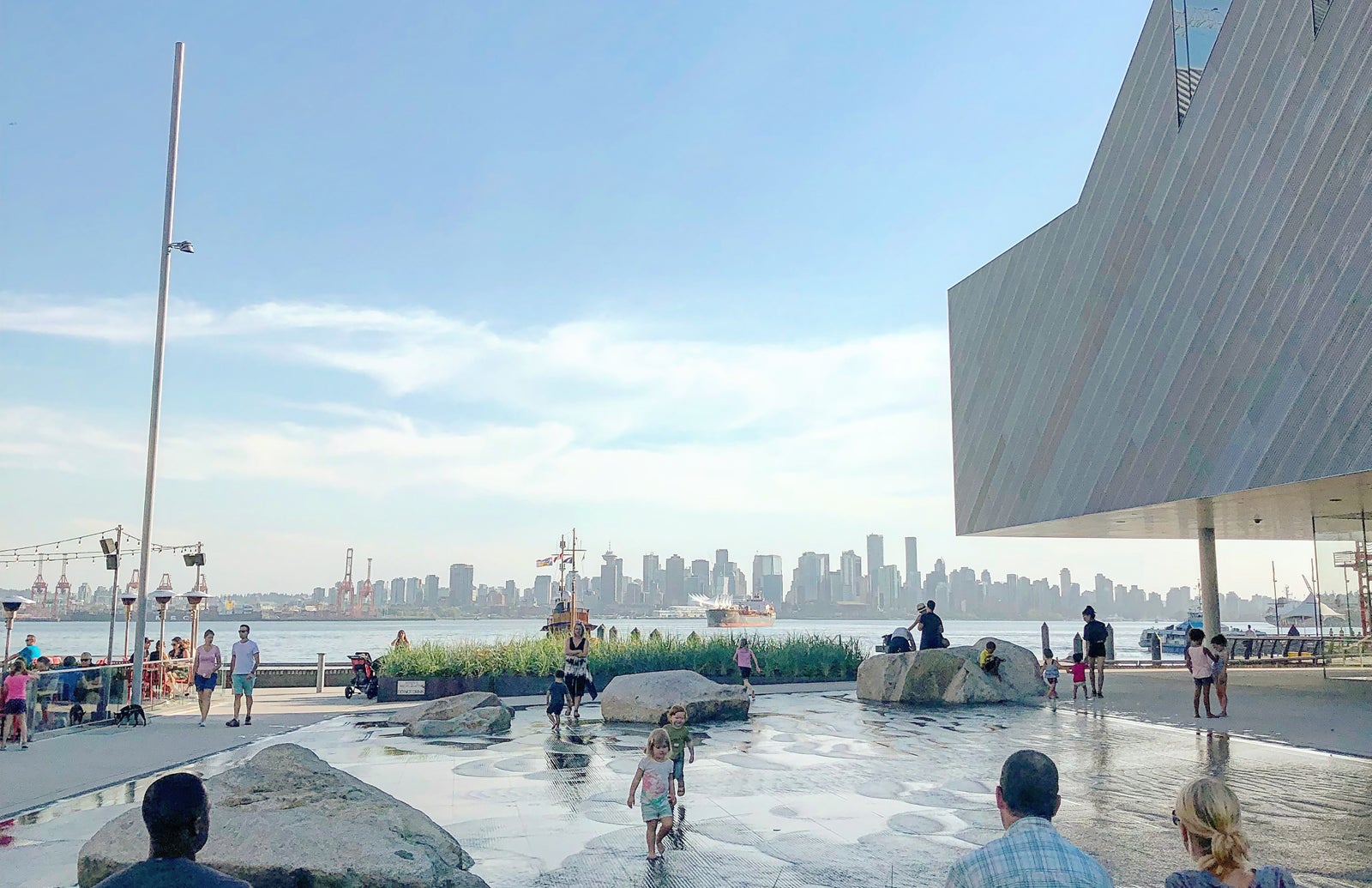 Perhaps no Metro Vancouver neighbourhood has undergone as much change in the last decade as The Shipyards District.
The North Vancouver neighbourhood, a.k.a. Lower Lonsdale, encompasses four blocks on Lonsdale Avenue and two blocks east and west. Some of its attractions include Lonsdale Quay Market and Food Hall, The Polygon Gallery, a row of craft breweries and Shipyard Commons. The latter features a 12,000-square-foot skating rink in the winter and an 8,000-square-foot water park in the summer.
But when Jesse Godin moved there in the late '90s, the neighbourhood wasn't so family-friendly.
"Lower Lonsdale was still pretty sketchy," said Godin, who grew up in West Vancouver.
"At the time, you moved to North Van because it was so much cheaper. Which it isn't anymore, obviously."
He and his wife Samantha bought in 2001.
"The only reason that we can still live here is that we bought so early. The prices just appreciated tremendously. We ended up getting a pre-sale on the place we have now."
As of this writing, MLS listings showed five one-bedroom condos for under $600,000. Northshorerealty.com listed the average price at $1,565,058.
Until 1921 the area was known as Wallace Shipyards, then Burrard Dry Dock. The district was industrial land for decades. Godin realized changes were afoot in the late oughts when construction began on Pinnacle Hotel at the Pier.
"That was the first 'wow,' moment, where it went from being this contaminated piece of dirt, which the shipyards were, to whoah, there's something super-nice here now," Godin said.
The 106-room hotel was built in 2010.
"That changed everything. All these restaurants started popping up on Lower Lonsdale, and this vibe just started to happen."
In 2016, the City of North Vancouver partnered with Quay North Urban Development to develop the area—the result: a completely revitalized and in-demand neighbourhood with spectacular views of Burrard Inlet and downtown Vancouver. The SeaBus makes getting to and from the area convenient and a mini-adventure of its own.
The current SeaBus ferries began running in 1977 after a proposal to build a tunnel under the Burrard Inlet was rejected.
The Shipyards District isn't quite finished. Next on the agenda is an overhaul of Lonsdale Quay market. First opened in 1986, the market is home to more than 60 local businesses and a food hall. The plans include expanding the floor space, reconfiguring the indoor market for a new food hall with a licensed bar, and refurbishing the exterior.
More change is coming to the surrounding areas as well. In 2016, the City of North Vancouver rezoned Moodyville, a community to the east of the Shipyards. Redevelopment will include up to 1,500 new homes. To the west, an 18-building, 1.16 million-square-foot Harbourside Waterfront development was approved in 2017. It will include 800 residential units.
Godin has gotten to know the area in a few ways. He's a commercial realtor by day and by night a drummer. He's been with the Adam Woodall Band for more than twenty years.
His was the first band to play the stage when the Shipyards Night Market began a decade ago. "It was such a small event. And now it's blossomed into this crazy Friday night thing."
Though cancelled for the last three years, Shipyards Night Market is returning. From 3 to 10 p.m. every Friday until Sept. 15, the market hosts food vendors, a beer garden, and live music. A one-day annual event, The Shipyards Festival, occurs at the end of summer.
Godin and his wife Samantha, a professional singer, often perform with their respective bands at Shipyards Night Market, now in its 10th year. Samantha Godin performs with the band The R&B Conspiracy.
Jillian Sheridan lives 15 minutes away in Deep Cove but is frequently at The Shipyards with her husband Craig and their two kids. Craig's mom, her husband, and Craig's grandparents live on the water in the heart of the area.
"There's been a huge evolution," said Sheridan, who moved to Deep Cove from downtown eight years ago.
"Before, it was like a ghost town. There was just nothing there. But especially in the last couple years, it feels like there's been a concentrated effort by so many businesses for this revival."
Sheridan and her husband run Legends Haul, a distributor and producer of sustainably sourced food. Last summer, they set up a hot dog stand at the Shipyards.
"It's nice because, as magical as it still is to go to Granville Island, it's a production with two little kids. Having that kind of feeling plus even more at the Shipyards has been really nice. It's been such a great addition to North Van and really needed, especially for young families."
A walk through the Shipyards is an almost daily occurrence for Godin, his wife, and their 10-year-old son, Bowie.
"Everybody's very proud of the Shipyards District," Godin said. "I think it's helped make North Van a destination. Some people say that it's kind of like the new Yaletown. Well, maybe. But it's definitely unique. On a beautiful summer's day, it's hard to beat."
If there's a downside, it's that the neighbourhood is getting too busy. The Bowline, a rental building, recently went up, obstructing the view from Godin's building.
And the school system is starting to show a strain, he says.
With new developments in Moodyville and Harbourside, the area is bound to get even busier.
"In the next 10 years, let's call it, it's going to be quite the transition for the city and the district. Other than that, I can't say enough good things about it."
Jesse Godin's favourite places
The Gull Bar and Kitchen (175 East 1st St.): Formerly a dive bar called The Rusty Gull, where Godin estimates he played "hundreds of times," The Gull is now a restaurant. "They're known for their burgers. But everything's good. It's got a great cocktail program."
La Cerveceria Astilleros (226 East Esplanade) and Shaketown (228 East Esplanade): "La Cerveceria is probably our favourite right now of the breweries. I like how small it is and how laid back. And their salted lime lager is really good."
Cream Pony (111 East 1st St.): "It's a little shop in a lane. It doesn't have street-front exposure. You have to go off of Lonsdale. They have great fried chicken and doughnuts. And coffee."
Lift Breakfast Bakery (101 Lonsdale Ave.): "That's the go-to for brunch. But on weekends, you'll be waiting a long time."