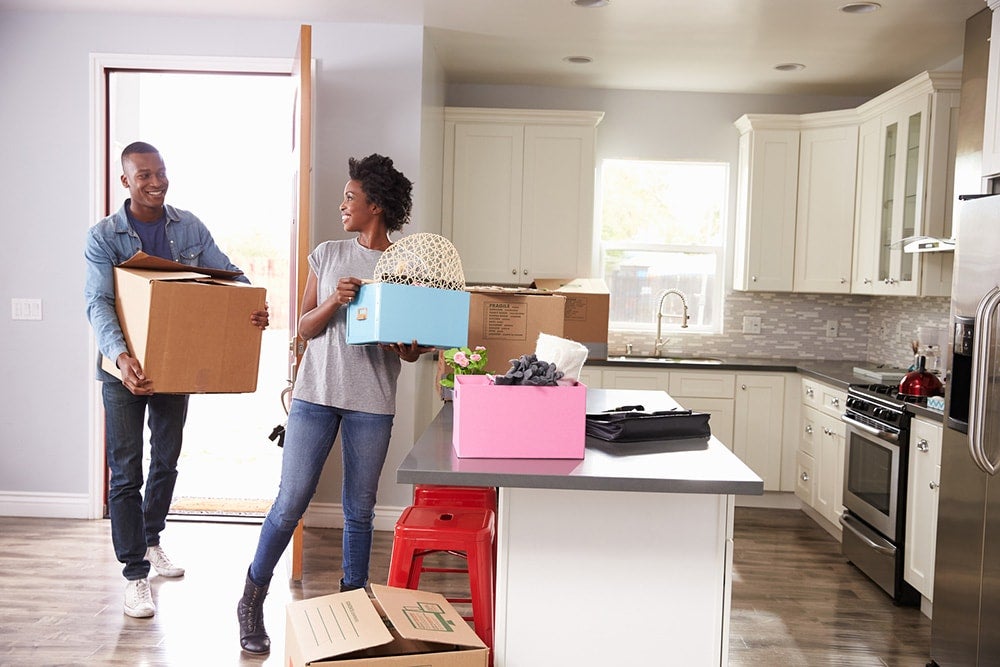 When it comes to home improvement projects, no trip to Home Depot is complete without at least two more trips to Home Depot. That's not an opinion, that's a fact.

There are plenty of reasons to start a home improvement project, but motivation strikes the most intensely at two points along the homeownership journey: when you move in, and when you move to sell. Whether you're moving into your new home and looking to maximize your comfort, or selling your property and looking to maximize your value, we're here to guide you through several of the most popular home improvements that are worth the cost. One hammer swing at a time.
Your true colours.
Before you go any further, we have to stress that this Guide isn't sponsored by a paint company. It's just a really great idea to paint when you move in and when you move out of your home.
Do it when you move in to freshen things up and make you feel comfortable, especially when purchasing an older property. The '70s and '80s were full of excitement, and sometimes that spilled over into some pretty bold paint choices. If you're looking for a little more calm and a little less psychedelic, grab some paint samples and do some testing. You'll be surprised at how much cleaner a room can look with a fresh coat of paint. And feel free to go beyond just the walls. Doors, baseboards, and cupboards all need some love too.
Pro tip: If your walls are in poor condition, be sure to pick a light colour. Dark colours make it much easier to see imperfections in your drywall.
Cost expectations: Roughly between $2 and $3 per square foot of your home. A 2 000 square foot home would likely cost between $4 000 and $6 000.
Outside the box.
While we're on the subject of paint, let's move to the exterior of your home.
If your house sticks out like a sore thumb in the neighbourhood and you're preparing to sell, consider a new look. You might love pinks and yellows, but the odds are that your potential buyers won't be as enthusiastic. Greys and whites are popular right now, so you can't go wrong by keeping it neutral.
If you want to paint the exterior of your home when or before you move in, by all means. Just know that it probably won't bother you as much as the interior, so if you're on a budget, do the inside first. You'll only really be looking at the outside while you bring in the groceries, after all.
Pro tip: Take a drive through a new home development in your neighbourhood and note what colours the houses have been painted. Developers spend a lot of time choosing details like paint colours, and you can bet that the colours they've picked are popular in your market right now.
Cost expectations: Exterior paint jobs can vary greatly depending on the complexity of your home, but for a 2 000 square foot home costs will likely fall between $2 000 and $8 000.
From the ground up.
Fresh paint and new floors. If you've just moved in and your house needs a lot of work, sleep well knowing that tackling these two projects alone can make a massive difference.
When you're picking new flooring, the first thing you need to do is evaluate your house. You might need new floors in every room, or maybe the kitchen and bathroom tile has held up better than the laminate in the living room. Just know that you have options, not everything needs to be done all at once.
There's plenty to think about, but there are six overall important things you need to consider before you choose the right flooring for your home.
1. Temperature
2. Look & maintenance
3. Durability
4. Ease of installation
5. Cost
6. Size
If you're moving out, replacing your flooring will help increase your home's value. Take a look at something durable and affordable like vinyl that will look fresh and appealing to buyers.
Laminate cost expectations: $1 - $2 per square foot.
Vinyl cost expectations: $2 - $4 per square foot.
Hardwood cost expectations: $5 - $12 per square foot.
Save your energy.
More time equals more savings, so the sooner you make your home energy efficient the better. This doesn't mean you need to install solar panels on move-in day, but maybe take a look at programmable and smart thermostats to start. Upgrading your home's windows from single to double pane, triple pane, or low-e windows is a great move as well. You'll be warmer in the winter months and cooler in the summer, without having to adjust the thermostat nearly as much.
Cost expectations to replace and install new windows: Roughly $1 000 per window (and upward). 
Original article from
rew.ca