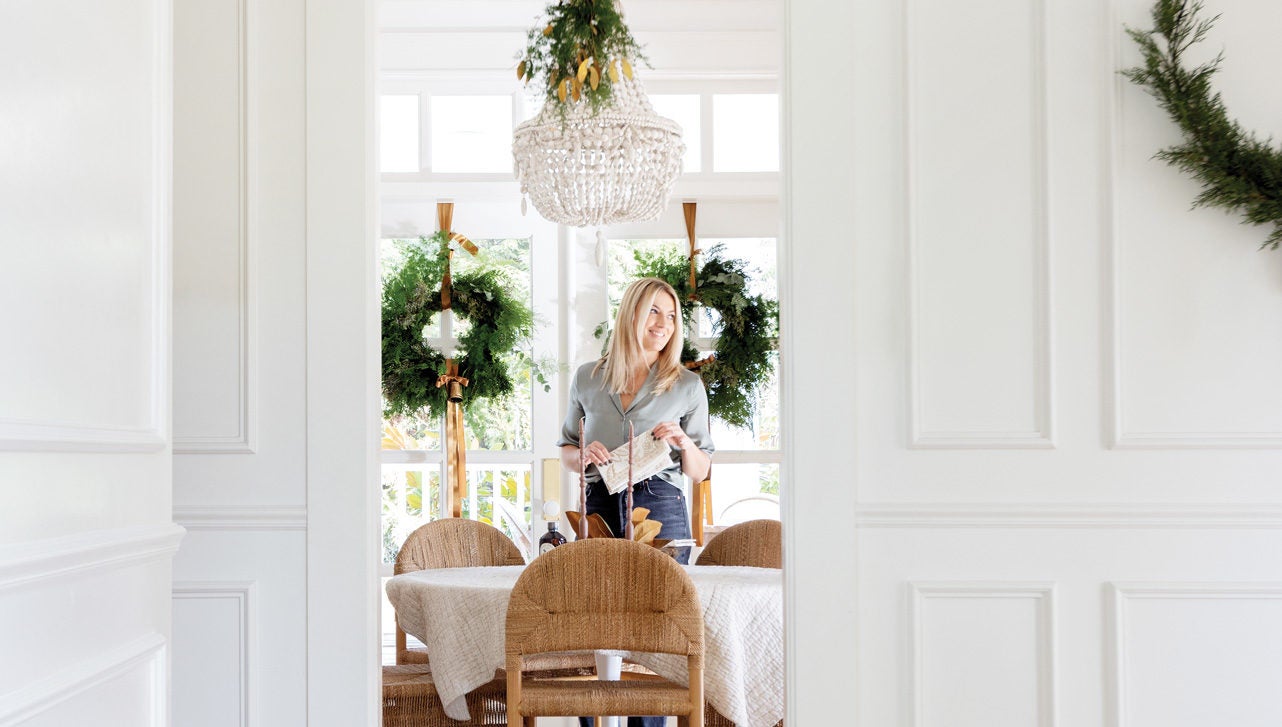 Getting designer Mariana D'Amici's North Vancouver home holiday-ready is a family affair.
We can count on the holiday season to bring out the warm fuzzies in even the Scroogiest of adults, but there's something extra magical about being a kid around Christmas.
North Vancouver designer Mariana D'Amici and her family faithfully observe traditions like writing letters to Santa, baking cookies, scouting out Christmas lights and wearing matching pajamas. And, according to D'Amici, rushing to capture a video of her three children bounding down the stairs on Christmas morning has also become a tradition: she's eager to preserve these good old days.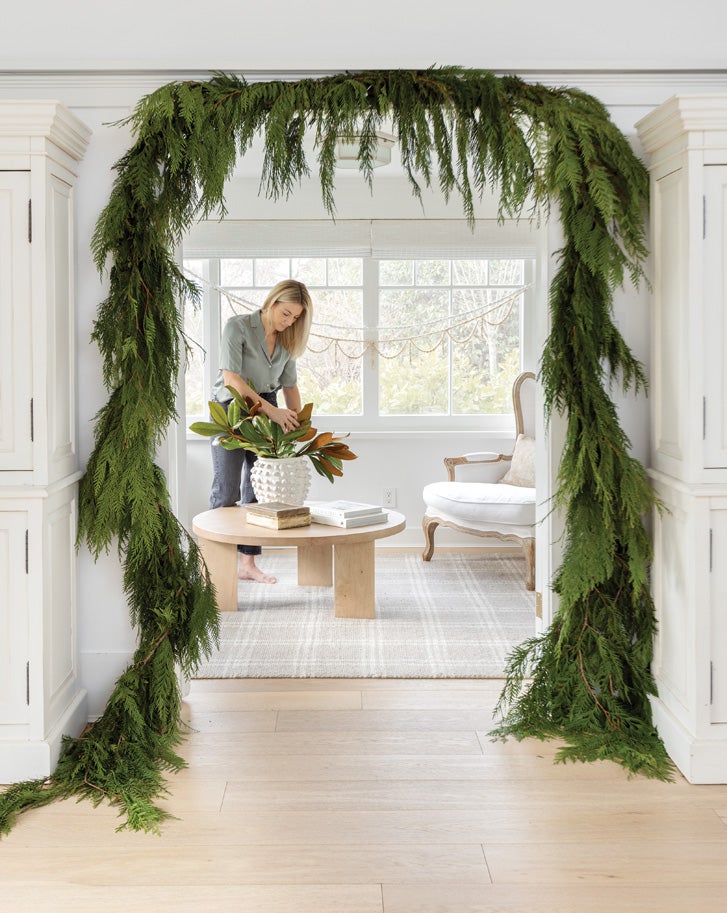 The greenery in designer Mariana D'Amici's sunroom is actually magnolia leaves from her garden. "They're a great piece for Christmas because of the deep green and chestnut brown leaves," says the designer. They give the arrangement a subtle reddish hue, too. Photo: Janis Nicolay
"I'm at a time of my life where my kids are starting to get older, quicker—and I'm really aware of the passage of time," says D'Amici. "I think this is a season where everyone yearns to have things slow down a little bit." To reflect on bygone Christmases and cherish memories being made, she filled her home with vintage goods, handmade details and plenty of natural greenery.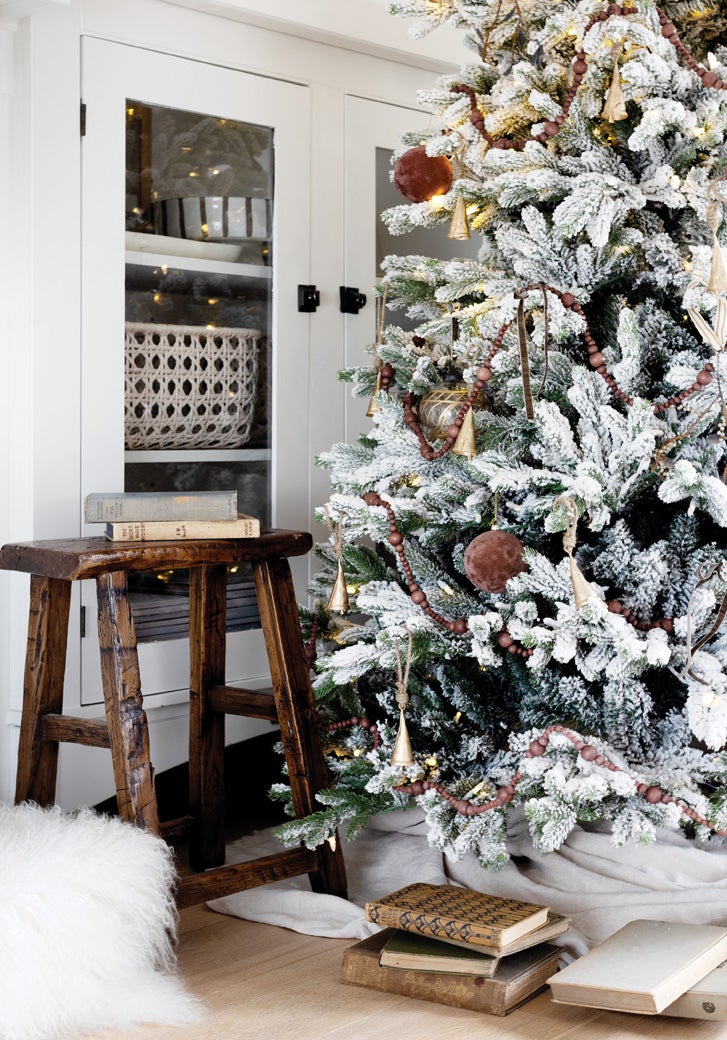 Instead of presents, D'Amici styled the tree (above) with vintage books—the leather-bound browns and greens fit with the home's traditional, old-world holiday decor. Photo: Janis Nicolay.
D'Amici's family home, which she designed herself in 2019, is very white and bright: it's an intentional choice to make seasonal decor shine. Real garlands from Bloomier, a zero-waste flower studio based out of West Vancouver, give doorways a pop of green, but they're draped asymmetrically to embrace the garland's natural, organic form. "It's not stiff or structured—I guess that's kind of how Christmas unfolds in my house," says D'Amici with a laugh. "Nothing is perfect-looking; everything is just slightly askew."
The designer admits she's not a big fan of red, which is why she focused on a palette of jewel tones and natural browns, incorporating texture and patina wherever she could. Case in point: the Christmas tree itself, where velvet-wrapped balls, etched glass decorations and wood beaded garlands are nestled among the branches. Plus, there are the bells. Real jingling bells add a musical element to the design (and maybe an extra layer of security to catch premature gift-openers).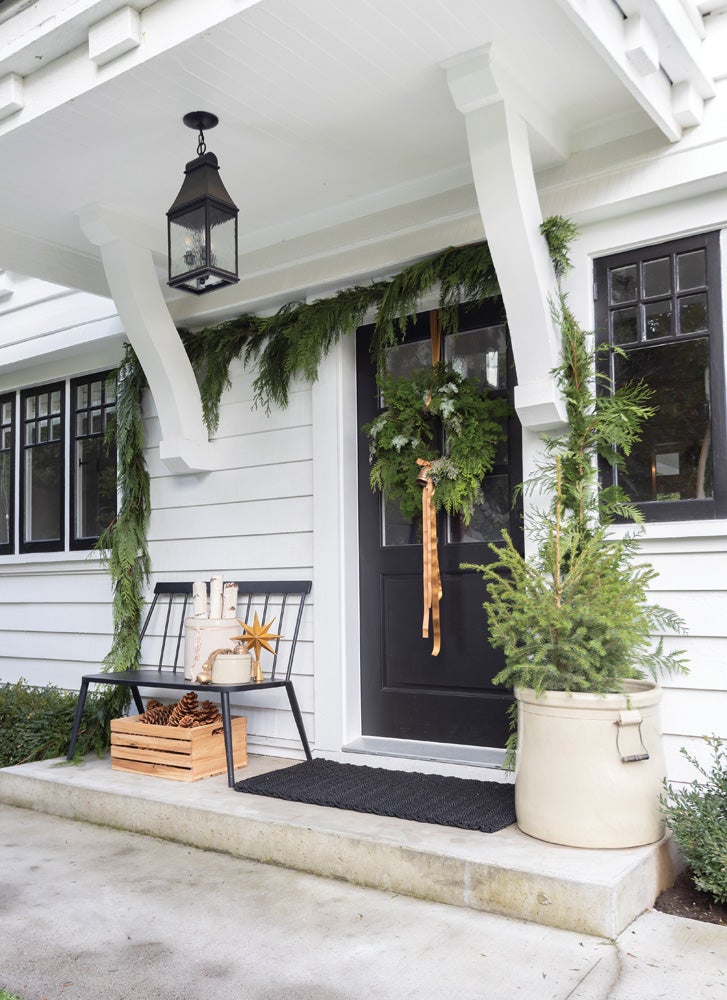 Teo (age 10), Ella (8) and Roko (4) love to help with decking the halls, too. "My kids are very into decorating during Christmas— they can't wait to pull out all the ornaments and be a part of it," says D'Amici. The designer says she likes to incorporate a bit of holiday cheer into every room, including her children's. The three kids each get their own mini tree, their bedsheets are changed to festive patterns and the art on the wall changes to seasonal motifs (think a clipboard holding a "Pray for Snow" sign or a poster of a skier jumping over a vintage car).
Another off-balance garland hangs in the dining-room doorway, and woven chairs and vintage linen tablecloths bring that tactile element to the shared space. Texture also reigns supreme in the family stockings: they're made of reworked kilim rugs. D'Amici trades overhead lighting for small lamps and candles during the cozier seasons, immersing the home in a warm glow.
"I like to do wall displays that enable me to change things up," says the designer. For her, decorating signifies the passage of time, and hauling out all her favourite festive elements stirs up feelings of nostalgia. But just as much as her sentimental holiday decor looks toward the past, it also encourages the family to cherish the present—and isn't the present what Christmas is all about?