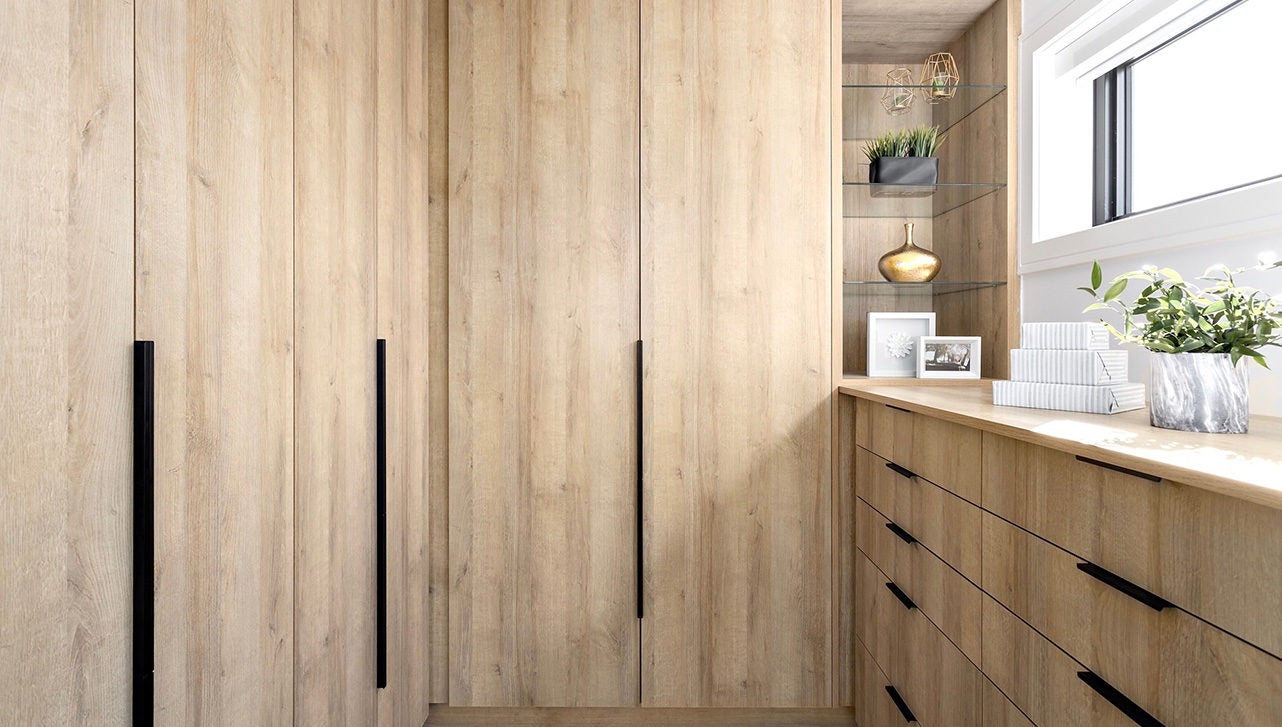 Your wardrobe may be stuffed haphazardly behind closed doors, but when it comes to designing a considered home, pro designers don't leave any stone unturned. Creating a storage space that's organized, efficient and, in a perfect world, beautiful, is a designers dream—even if the only person who sees it is the homeowner. So when we were pondering the best way to get our clutter in order this fall, we knew just who to call. Here, our favourite interior design experts weigh in on how to take control of your closet.
Build a closet that fits your life
Customizing your closet is a must, explains Aly Velji of Aly Velji Designs, who notes that more and more of his clients are choosing wall-to-wall storage options in the bedroom. "Customizing your closet is a must. Interior fittings and pull outs to store shoes, sweaters, accessories is a great way to ensure everything has it's place and is organized." (His go-to is Hafele.)
Karen Atwell, creative director at Form Interiors, suggests taking stock of what needs to hang and what might work stored in a drawer. "The foundation of organizing your closet, or really any space, is to begin by taking stock of what you have and want to have stored. Do you need space for hats, handbags, longer dresses and sweaters? If space allows, what might you want to keep folded or tucked away in drawers? Once you have the answers to these questions, you can begin laying out the space." Make room for longer hanging items, double up for shorter ones and don't forget room to display and organize accessories and small items like jewellery—baskets are an easy way to corral those small pieces neatly and stylishly.
Have some fun with it
This Reena Sotropa-designed space features a sprawling walk-in closet with Manuel Canovas wallpaper. (The pattern? Colourful handbags and clutches.) This dressing room is actually so big that it even includes a mini workspace where the homeowner can sit with a laptop and quickly answer emails in the morning. (Which explains why some of the drawers here are reserved for office materials.)
Empty everything out
"We suggest taking everything out and putting it back thoughtfully, one piece at a time in order of priority," says Jamie Hamilton, co-lead designer at Oliver Simon Design along with and Greer Nelson. "Hang your favourite things first and hopefully by the end you have a few things that don't make the cut."
Then, it's time to say some goodbyes
"You've got to purge before you re-organize," says Marrimor Studio founder Tanja Hinder. After all, if you're just stocking your closet with junk again, it's going to keep feeling cluttered.
"One of the first things I'd recommend doing when organizing your closet is to declutter! Throw out anything that is worn out and donate any items you don't use that still have some life left. This ensures that you'll be left with things you love and will actually use," adds Rochelle Cote, principal of Rochelle Cote Interior Design.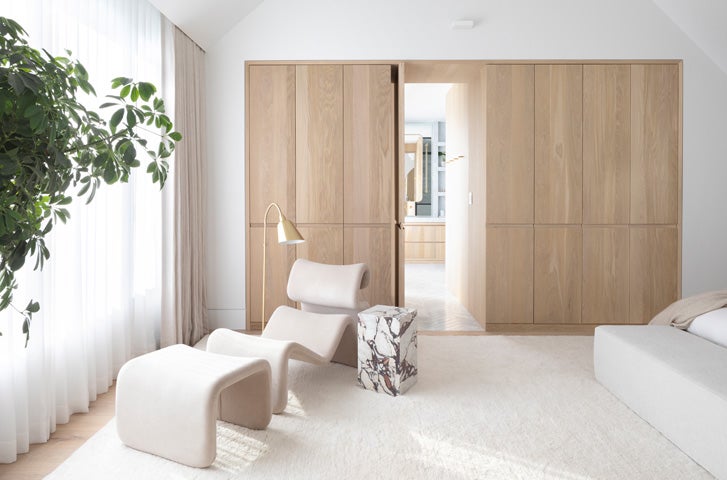 Categorize and organize your things
Cote recommends sorting all the items in your closet into categories and group similar items together so that they have a designated zone in your closet—belts, hats, old scrapbooks, et cetera. And when it comes to hanging clothes, Project 22 principal Denise Ashmore swears by a colour-coded closet: "I do mine by colour, I am a visual person so and I know if I am feeling light or dark for the occasion so it makes my life easy." Calgary designer Paul Lavoie seconds the motion: "Organize by colour—it's easier to match your clothes to your mood."
Blend in the bathroom
This Andrea Rodman designed bedroom features a whole wall of closets, but one of the doors reveals a little bit more… the entrance to the ensuite. "We were trying to figure out how to incorporate the door with the awkward gable ceiling: this blends it in and creates symmetry," says Rodman.
…or make the door a statement moment
Kalu Interiors uses a sliding smoked-glass door to separate the bedroom from the closet in this striking modern home.
Invest in matching hangers
It's one of those things that's not exciting to spend money on… but once your pieces are all hanging neatly, you'll wish you did it years ago. "We encourage using all the same hangers for visual consistency," says Nelson.