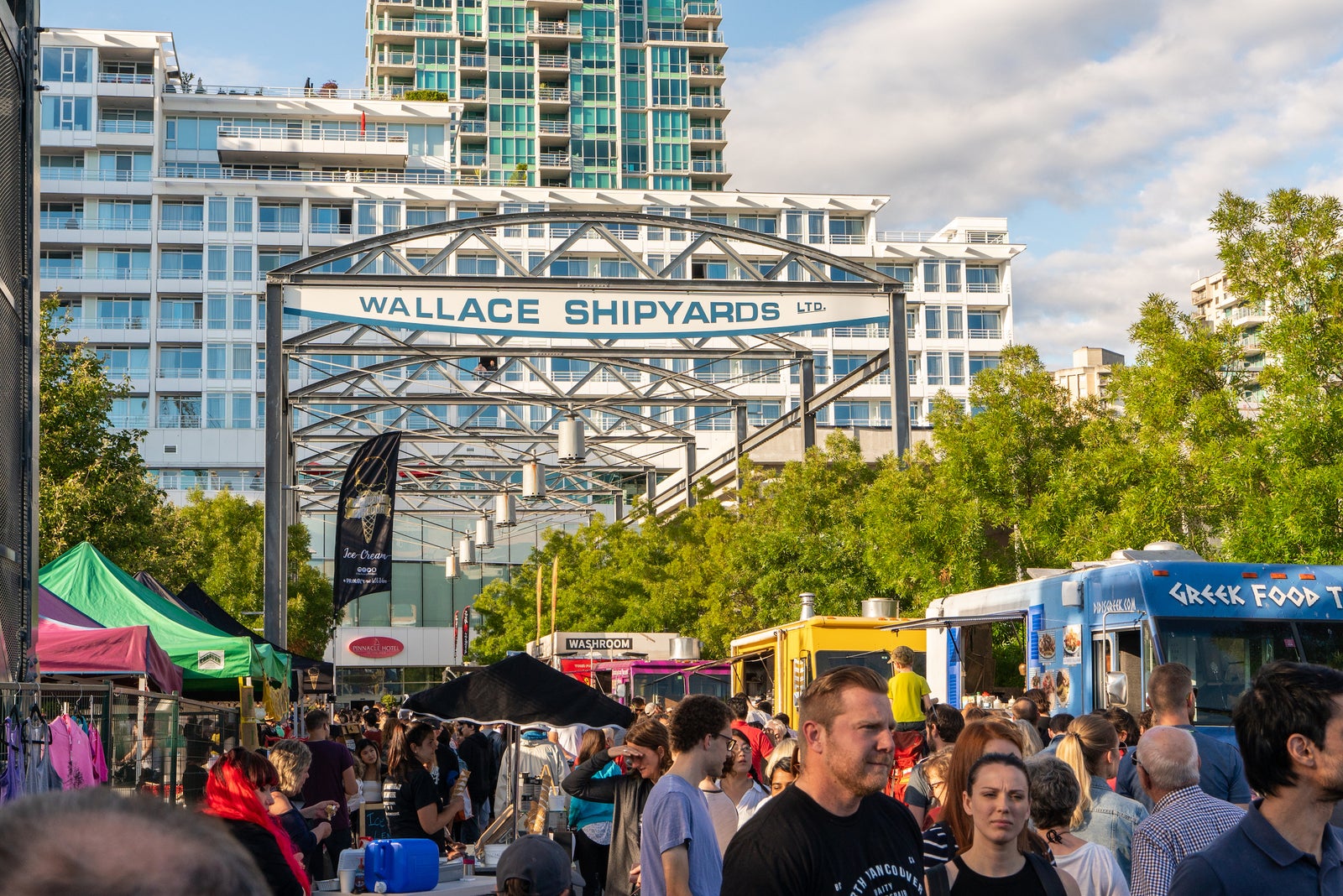 Summertime fun is back in Lower Lonsdale! Check out The Garden Beer Market at the Shipyards every Saturday afternoon and evening until September 3rd! Head down to Shipbuilder's Square this weekend for a delicious beer, some live music, a bite to eat at a local food truck, and some good times in the sun (or rain… you know North Van!)
The Garden is a mobile beer garden company that was born out of the Shipyards Night Market back in 2019. The Night Market was originally created in 2011 by Ingrid Doerr, a multi-talented entrepreneur who owned a restaurant, a T-shirt printing company, and a gift shop. Colliding her worlds together, she brought some folks together to create the Night Market. Although the Night Market started off small, over the next few years, it would begin hosting more than 10,000 people each week!
Ingrid's nephew, Kyle, and his wife, Christine, both helped Ingrid operate the beer gardens at the Shipyards Night Market for many years. Unfortunately, Ingrid passed in 2018, leaving behind an incredible legacy that was the Shipyards Night Market. Kyle and Christine were always inspired by Ingrid's spirit and love for the community, so they decided to do her proud, and started their mobile beer garden. The duo used their years of experience at the night market and applied them to create a unique mobile beer garden experience in the Shipbuilder's Square. Moving forward, expect a mobile trailer with a fridge and taps, and the ability to pull in and serve events of any size.


The Shipyards Night Market was one of the first large scale community events, built to engage with the locals, support local businesses and artists, and provide North Vancouver with a fun, free activity to do with the whole family. This community-centric approach is still engrained in everything The Garden does. They recognize North Vancouver as a leader in community engagement, with Kyle stating that "There is no other municipality that is pioneering this. The city of North Van asks 'what can we do to bring people from all over the lower mainland together', which is awesome."
To get the community involved, the Garden is featuring beers from local breweries. Kyle explains that "the goal with serving local beers is to extend the brewery's patio and to get their drinks in front of as many new people as possible." The Garden is rotating a selection of beers from local breweries, such as Wildeye Brewing, North Point Brewing, La Cerveceria, Shaketown, and Copperpenny Distillery! They will also feature several food trucks each week, as well as local artists in musicians to perform. 
The Garden at the Shipyards will be running every Saturday from 2-10pm in the Ship Builder's Square. We hope to see you there!